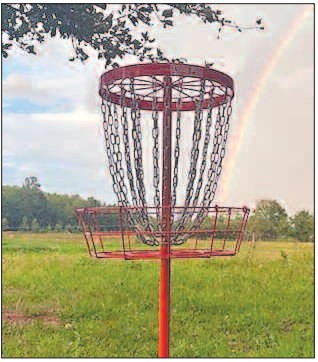 by Melissa Newland
Whether a tournament veteran or someone new to the disc golf game scene, Constellation Farmstead located in Pelkie will be the place to be this coming weekend to celebrate its grand opening. Located at 30970
Tapiola Road, the disc golf course, owned by Madelin Zaycheck and  her partner AJ, will be open to the public starting Saturday, Sept. 3 at sun up, going through Monday, Sept. 5 until sun down with prizes and fun for all (see schedule below for details). Madelin and AJ recently
'bought the farm' and moved to the area to "live simply so that others may simply live," and have succeeded in building a "multifaceted  agritourism destination combining farming, homesteading and leisure," which includes disc golf, among other activities. To read more, subscribe to the L'Anse Sentinel online, or buy a print copy at our local retailers.