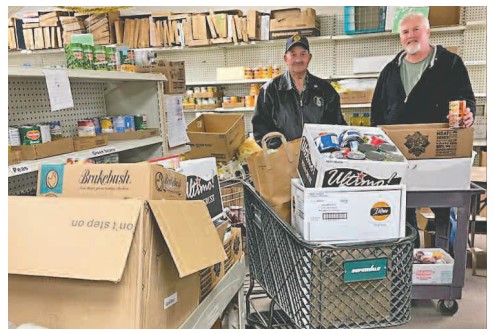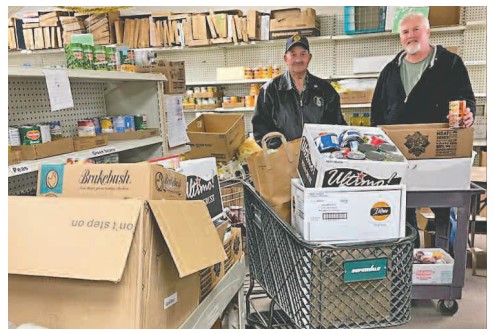 by Melissa Newland
Serving those in need in the community is important to the members/volunteers of the  Baraga American Legion Post #444 and during the Legion's "Da Yooper SOUPer Bowl," which took place between January and February, the group, like the Kansas City Chiefs,
kicked a winning field goal gathering donations of nonperishable items for St. Vincent De Paul's Food Pantry in L'Anse. Food Pantry volunteers Carolyn Pasternak and Janet Hagbloom noted the Post's Vice Commander Lance Heikkinen and Legion patron/volunteer Joe Bianco delivered 407 pounds of food items Monday, Feb. 13, to add to the shelves after final collections took place at the Legion during the Super Bowl on Sunday. "They (the Post) were very pleased with the response," said Pasternak and Hagbloom." The collection of food
items started Sunday, Jan. 8, 2023, during the Packer vs Lions Yooper Bowl and continued through Sunday's Super Bowl game. The drive encouraged community members to bring in a can of soup or other non-perishable item to receive a discount on the first drink at $1.75, the average price of a can of soup today. To read more, subscribe to the L'Anse Sentinel online, or buy a print copy at our local retailers.